Joel Franck, MD
Neurosurgeon
Hello – my name is Joel Franck. I am here to introduce you to a highly effective and novel form of minimally invasive surgical treatment of intractable migraine headaches and a host of associated neurological dysfunctions that can occur as a result of a whiplash injury to your neck.
This is generally called the Whiplash Associated Disorder and Cranial-Cervical Syndrome.
I am a Neurosurgeon, specializing in surgery of the cervical spine. Neurosurgery is the specialty dealing with the surgical treatment of diseases of the brain and spine. I have over 28 years of experience in the practice of Neurosurgery, and I am particularly interested in the damage whiplash injuries can cause to the upper cervical spine. I have developed a unique program for the analysis and minimally invasive surgical treatment of whiplash injuries to the Cervical spine. Having already studied hundreds of cases from around the world, and successfully treated over 80 patients with my techniques, I am particularly struck with a sense of pride and accomplishment, when a patient, as many do, visits me in the office and asserts " Thank you Dr. Franck for giving me my Life back". I have operated on patients from Canada, Austria, and over 15 states, many of whom were plagued for years and years with horrendous symptoms, ranging from extraordinary post-whiplash migraine headaches to complex neurologic deficits. The results have most often been outstanding.
"I am eight months post op and now heading home to Canada but I wanted to write and send you the most sincere thank you for saving my life.  When I came to see you I was in REALLY BAD shape.  So very sick, in unimaginable pain, and having already seen 100 doctors… A ten year nightmare that I am so glad to report is over.  I am feeling 100% better now and all the credit has to go to you.  God bless you…The work you are doing is groundbreaking…"  Laura M, Ontario, Canada 2011

"DR. FRANCK – THERE ARE TWO DAYS WE CELEBRATE IN LAURA'S LIFE – THE DAY SHE WAS BORN AND THE DAY SHE MET YOU" – BARRY, ONTARIO, CANADA 2012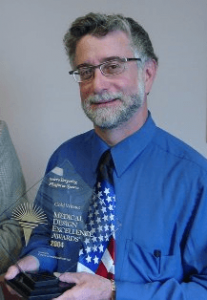 I was educated at the Bronx High School of Science, Massachusetts Institute of Technology, Rockefeller University, and Yale University School of Medicine.
I went on to train for seven years at the Upstate Medical Center of the State University of New York in Syracuse. I have treated thousands of patients, developed innovative approaches to Neurosurgery, published over fifty articles and abstracts, and have held twelve U.S. and International biotechnology patents.
Two National Gold Medals in Biotechnology have been awarded for my inventions of novel techniques of Deep Brain Stimulation (DBS), already successfully used thousands of times worldwide.
I continue to lecture around the United States, and worldwide, including, France, Sweden, Israel, and the Cayman Islands, on new neurosurgical solutions for complex problems.
"I was simply blown away by your presentation at the New York conference… I would urge you to publish your data on your presentation as I think it would be a huge step forward for many of us." – Joseph C. Maroon, M.D. Professor and Vice Chairman – Department of Neurosurgery – University of Pittsburgh Medical Center – Team Neurosurgeon, The Pittsburgh Steelers – April 8, 2013
Treatment of Post-Whiplash Migraine Headaches
Currently, my main interest lies in the treatment of post-whiplash migraine headaches.
Cervical Fusion for Whiplash Injury
Dr. Franck at Cranio-Cervical Syndrome Symposium



This syndrome, along with its associated multiple neurological disorders, has destroyed thousands upon thousands of people's lives.

Utilizing novel radiological techniques and hi-tech image guided approaches to surgery, I have developed a minimally invasive, highly effective, method of C1-C2 fusion, requiring only a brief recovery at the surgery center then a premium hotel stay with 23 hour nursing care immediately post-op.

Over seventy patients from around the entire United States, Canada, and Europe have had outstanding and gratifying responses to this surgical approach. Nearly all had effective cessation of their headaches and neck pain and most have returned to work or school.

I currently practice as a neurosurgeon in Clearwater, a city in Florida's Tampa Bay area known for sunny weather and gulf coast beaches.
Words cannot describe the gratitude and appreciation for giving Marley her life back…Your remarkable skills, knowledge, and expertise has been a blessing in her life. Marley struggled for months going to many doctors, only to be rejected…Thanks so much for restoring her quality of life…She is headache free. ~ M.G., Florida, 2014
For those traveling for treatment from some distance, we can give recommendations regarding accommodations in the Tampa Bay area of Florida.  This is a wonderful place to relax for a few weeks after surgery.
Patient Testimonials